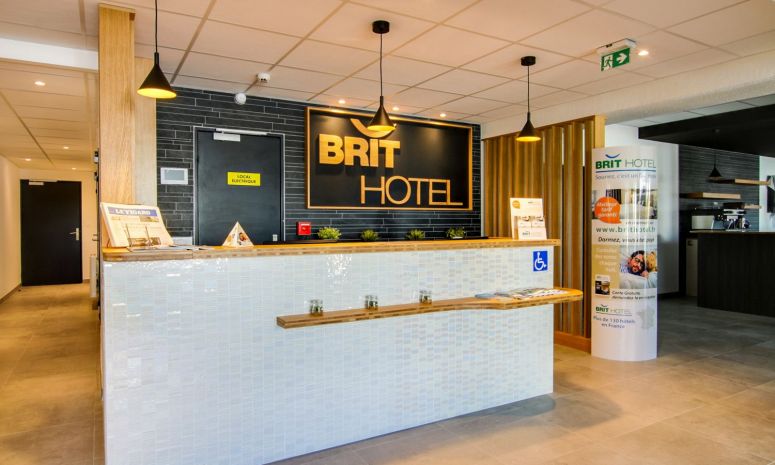 Our advantages
Free parking

Open every day 24h/24

Optical fiber
Our rooms
The Brit Hotel Reims la Neuvillette has 72 comfortable rooms. We offer you different types of rooms for your stay.
You will find in your room the following equipment: quality bedding with duvet, private bathroom with shower, flat screen TV with Canal Plus, telephone and free Wi-Fi access.
A baby cot can be made available on request.

Parking

Free Wifi

Home 24H/24
Restaurant

Animals accepted : €5,00
Indice de
Satisfaction client
Type de chambre
Tarif du jour
Nombre de chambres
Reims
Near the hotel
Notre-Dame Cathedral
The Tau Palace
Champagne cellars
The museums of Reims
Access
Autoroute du Nord: A26, take exit 15 Reims la Neuvillette
Motorway A4: take the A26 and then exit Reims la Neuvillette
Indice de
Satisfaction client
We had never been before, but reviews looked good. Very handy for stopping en route to Ardennes. A quiet area, and staff were friendly and accommodating. Nice pizza van on main road nearby. Rooms were quiet and clean, and we got the bus into town of Reims the next morning, which was lovely. Secure car parking too. Only gripe was that a double and twin room on booking dot com didn't seem to have been communicated, so we got two doubles. Not the end of the world, but a tad annoying.
Read more
Great value hotel, perfect for our stopover. The room was clean and comfortable. There were several fast food restaurants and supermarkets near by. The receptionist was very welcoming. We would recommend this hotel
Read more
It was great the staff were really friendly and the food was excellent. We would definitely stay again
Read more
Nice as it was just for the night better if food was on site even on weekends
Read more
Great hotel, cheap proces, easy location and friendly staff
Read more
We stayed just few hours and had a good experience. The beds are a bit too hard in my opinion

Hotelier's response :
Dear Madam, Dear Sir Thank you for your pleasant comment to read, we do our best to satisfy our customers. Looking forward to welcoming you again in our establishment. Best Regards The Brit Hotel Reims La Neuvillette team
Read more
Hotel was in a good location for stop off en route through France, was clean and comfortable. However, stay was ruined by noisy coach party of young people who continued to Play music, sing, shout and run back and fore corridor outside room despite me telling them twice to be quiet. We had a long journey home next day and needed sleep but did not get to sleep until 1am. We would not stay here again for this reason.

Hotelier's response :
Dear Madam, dear Sir, Thank you for responding to our survey regarding your recent stay at our property. On behalf of our entire team, I would like to apologize for failing to exceed your expectations. Your satisfaction is very important to us, and we'll use your feedback to make improvements to ensure we provide a better experience for our guests in the future. I hope you will consider staying with us again, so that we have a second chance to provide you with a superior experience. Cordially The Brit Hotel Reims La Neuvillette team
Read more
Nice hotel for a short stay

Hotelier's response :
Dear Madam, Dear Sir Thank you for your pleasant comment to read, we do our best to satisfy our customers. Looking forward to welcoming you again in our establishment. Best Regards The Brit Hotel Reims La Neuvillette team
Read more